Welcome to Custom Wood Products of Jacksonville, the premier custom cabinetmaker and cabinet door supplier serving Jacksonville and beyond. Renowned for exceptional workmanship and unsurpassed customer service, Custom Wood Products combines the time-honored traditions of custom-built, made-to-order cabinetry with the modern efficiency of advanced cabinet making technology. If you can imagine it, we can build it!
Your Vision, Our Expertise
In business in Jacksonville since 1995, we have earned a reputation as a high-end cabinet shop that listens to our customers and delivers on our promises. Unlike large manufacturers with prefabricated units and limited choices, we build cabinets, cabinet doors and moldings that reflect our customers' unique tastes and project requirements. And all of our products are crafted from high-quality, hand-selected hardwoods.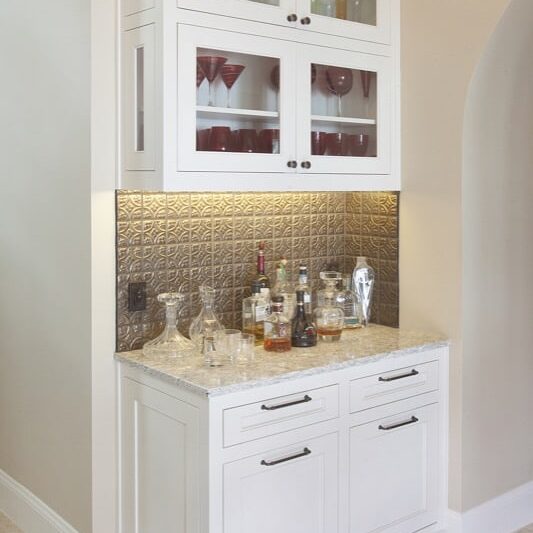 Testimonials
Jimmy, Jimmy Lewis Interiors, Inc.
Thank you for the great quality and beautifully finished cabinets. The professionalism you provided for my client's project was also outstanding. I look forward to working with you again.

Watkins Residence, Glen Kernan Golf & Country Club
My wife and I had to make a major decision to replace our 1998 house with a new one or refurbish our existing one. Loving our current location the decision was easy and we completely redid our 4100 square foot home from top to bottom. The easiest and most impressive part of our total renovation was the cabinetry and interior wood work done by Custom Wood Products. The planning, quality and installation were impeccable and we continue to receive many compliments today. Danny and Christy, the proprietors, are the consummate professionals in every step of the creative process.

Custom Wood Products is always a delight to work with. They have a great spacial sense of cabinet design and build a superior custom product. Pricing is very competitive, and especially outstanding for the product they provide. Their attention to detail in construction and installation of finished cabinets is outstanding. On top of all these great features they are ALWAYS on schedule with installations and follow up. I highly recommend Custom Wood Products.